Picture Gallery - Directory: pix/bikes/custom/egli
Last update: Mon Sep 25 00:09:54 MET 1995
---
Subdirectories:
---
Pictures: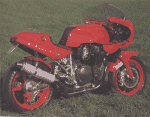 egli-gsx-r-1100.jpg (106543 bytes)
---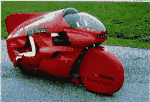 egli_mrd1.jpg (24944 bytes)

This is the 1986 World Record Version of the MRD 1 with a 300hp engine.
The fairing was designed by Luigi Colani, but not used since the engine
had "breathing" and overheating problems.

---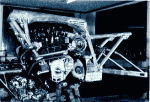 egli_mrd1_frame.jpg (25228 bytes)

This is the legendary Central Tube Frame by Fritz W. Egli, first built
in 1968. This one carries the 180hp Z900 turbocharged engine for the MRD 1.

---
egli_vmax.jpg (29856 bytes)

This Vmax is not just another tuned Vmax. This one was made by Fritz W. Egli
in Bettwil, Switzerland.

He worked the steering and swingarm bearings, put in his own "Racing Fork"
and 320mm rotors with Brembos. The engine is fed by a two wing
Roots-Supercharger (belt-driven) and a 44 mm Weber double carburetor.

It puts out some unbelievable 204hp and more than 160 Nm between 4500 and
9150 rpm.  Cosworth pistons and hardened Carillo piston rods keep the
engine steady.

---

egli_vmax_belt.jpg (35604 bytes)

This is a detail of the spectacular open running belt of the Egli Vmax.

---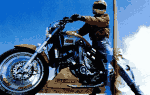 egli_vmax_burnout.jpg (76801 bytes)
---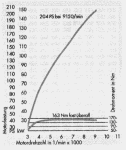 egli_vmax_figures.jpg (29119 bytes)

That's the supercharged engines's data. Just look at that torque curve...

---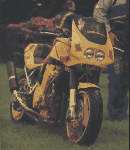 yellow-suzi.jpg (118065 bytes)
---