Picture Gallery - Directory: pix/bikes/custom/rickman
Last update: Mon Sep 25 00:09:47 MET 1995
---

1973 RICKMAN TRIDENT

Various snapshots of my Rickman-Trident, Serial #1029r.
I no longer have the bike.  It is in New Mexico somewhere.

The tank is aluminum.  You know the rest, engine number matches frame,
Rickman forks, Borianni (sp) rims, Rita electronic ignition, German
electronic tach, temporary headlight...  <engine blueprinted by
Mitch Klemph, 1979>

Fibreglass?  Where is all that neat Metisse stuff?  *sigh*, I had
the glasswork, fenders, lights, etc, stored in my brother's basement
along with my Yamaha TD250 gp road racer.  The Rickman and Yamaha 
body parts were painted the same colors.  Someone wanted to buy the
gp bike.  I asked my brother to take care of it.  The buyer gets the
the Yamaha and gets away with all the Metisse parts, too. I didn't 
discover it for months.

The lady is Sharon Smith.
 
john stafford

The images were scanned directly from 35mm B&W negatives, not prints.

---
Subdirectories:
---
Pictures: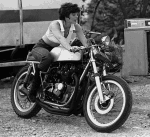 rickman-trident-1.gif (524280 bytes)
---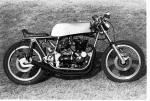 rickman-trident-2.gif (680605 bytes)
---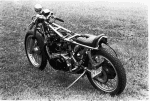 rickman-trident-3.gif (315628 bytes)
---